Contact to Cable - 1 Thermocouple Wire Pair
Contact to Cable - 1 Thermocouple Wire Pair
---
One pair (Type-K) of Kapton® Insulated Chromel® and Alumel® Wires with Chromel® and Alumel® Sockets (Female) on one end.
Options of 19" or 39" inches are available here.  Custom lengths are also available, please call.  
---
Specifications
Other Information:
Thermocouple feedthroughs do not measure temperature, but merely provide a conduit to bring the EMF signal generated at a thermocouple junction through a vacuum vessel wall to an external voltage measuring or temperature readout instrument. Type-K thermocouples with positive Chromel wires and negative Alumel wires are recommended for use in clean oxidizing atmospheres. The maximum operating temperature for these alloys is 1260 C for larger wire sizes. The useful temperature measuring range for a Type-K thermocouple is between (-)200 C to (+)1250 C.
Detailed images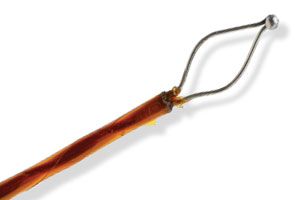 Downloads
Send to Colleague