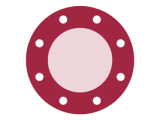 Corning 7056 - Borosilicate Glass / Viewports
Accu-Glass Products' Glass Vacuum Viewport Flanges are designed for all general purpose uses such as the direct observation of processes in a vacuum chamber.  The glass used in the vacuum viewport is Corning Type 7056 glass (a Borosilicate Glass), which is the most common material used for vacuum viewports.  Accu-Glass Products' glass viewports are designed for both high and ultrahigh (UHV) vacuum applications, using the latest in glass-to-metal bonding technology to seal the 7056 glass to the stainless steel or nickel-iron alloy sleeves.
Since glass is susceptible to scratching and weak under point stresses, caution must be exercised when handling viewports to minimize the chance of implosion hazard.
Features
Corning 7056 borosilicate glass
Nickel-Iron alloy low-expansion sleeve
High temperature rated to 350°C
UHV compatible construction
Conflat® and ISO NW compatible mounts
Stainless steel and NiFe construction
Custom Solutions on Request