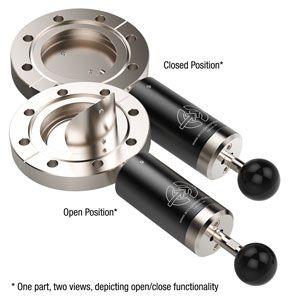 Viewport Shutter, AccuFlex 4.50 CF Flanged
AccuFlexTM, flexible viewport shutters offer 100% shielding for Conflat® CF Flanged fitted glass, quartz, and/or other substrate vacuum viewports used in vacuum evaporation and coating applications.

AccuFlex viewport shutters offer the largest port apertures available on the market today. Our unique flexible shutter design offers a full 90 degree shutter swing angle, when mated with CF flange ports having largest standard tube diameter... i.e. a 4.50 CF flange fitted with a 2.50 diameter tube and 2.37 diameter bore.

The flexible stainless steel foil shutter is designed for fast and easy replacement — for when extended coating process buildup begins to reduce shutter flexibility. See our shutter replacement /maintenance kits for more information.