Kapton Heating / Heater, Heat Film / Sheet Elements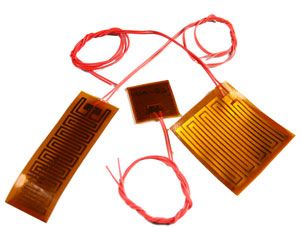 Kapton Heating / Heater, Heat Film/Sheet Elements
Kapton heaters in film or sheet provide a means to heat sample trays, cuvettes, reagent bottles, etc. inside a (HV) high vacuum chamber. 
Constructed with two sheets of Kapton® film that is resistant to chemicals, oils, and radiation and have a total thickness of only 0.008". 
Maximum heat output is 150ºC. 
FEP adhesive used internally. 
Lead wires are Teflon insulated with a length of 1 foot. 
Heating elements are 10 watts/sq. in. for rapid warm-up. 
Vacuum rated to 1x10-8 Torr and 200ºC maximum exposure temperature. 
Available with or without Acrylic adhesive.
Download Catalog