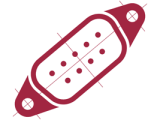 Subminiature-D or Sub-D
UHV 9, 15, 25, and 50-pin Subminiature-D (Sub-D) hermetic feedthroughs (vacuum feedthrough) are constructed with multi-pin arrangements per Mil-DTL-24308 (formerly Mil-C-24308) specification.   All pins are gold-plated and arranged in a straight-through pin-to-pin design.   Hermetically sealed and electrically insulated into a stainless steel shell using the latest in glass-ceramic bonding technology (ceramic feedthrough).
Multi-pin Sub-D Vacuum Feedthrough Connectors and Assemblies
Ultrahigh vacuum compatible Sub-D wire assemblies are fitted with PEEK (polyether-etherketone) polymer connectors and Kapton® insulated ribbon cable to meet the rigorous demands of ultrahigh vacuum environments.  Each subminiature-D vacuum connector includes two (2) captured stainless steel socket head screws that securely lock a connector to its mating electrical feedthrough.  To eliminate virtual leaks, in-vacuum captured screws are vented where required.
Introducing the HV Bulkhead-D multi-pin feedthrough Product Line
AGP's HV Bulkhead-D hermetic electrical feedthrough was developed for high-vacuum flat-chamber-wall applications where conventional ISO NW KF or LF flanges are either not available, or just not practical.   Our universal 2x3.5 inch rectangular flange, the Bulkhead-D flange, accommodates standard 9, 15, 25, or 50-pin subminiature-D electrical feedthroughs, and shares the same gasket and fastening accessories... providing simple and convenient interchangeability.
Subminiature-D Feedthrough Specifications
Electrical
 

Voltage, Maximum
Current, Per Pin Maximum @ 20ºC


500 VDC
5 Amps*

*  For proper heat dissipation, a maximum of 20% of the pins on a feedthrough may carry the maximum pin current at any given time.

 
Subminiature-D Feedthrough Material Specifications
Material
 

Shell
Pins
Seal / Insulator
Connector, Air
Connector, Vacuum
Connector, Vacuum, High Temperature


304 Stainless Steel
Au plated, Ni-Fe alloy
Glass-Ceramic
Delrin®
Peek*
Macor® Ceramic

*  Peek is a Polyether-ether-ketone thermoplastic.

 
Feedthrough Vacuum Range Specifications

Vacuum Range

 

UHV, Ultrahigh vacuum
HV, High vacuum


1x10-10 Torr
1x10-8 Torr
Feedthrough Temperature Range Specifications

Temperature Range

 

Feedthrough
Flange Mount, Conflat
Flange Mount, ISO
Connector / Cable, Air
Connector / Cable, Vacuum
Connector, Ceramic
Thermal Gradient


-200ºC to 250ºC
-200ºC to 450ºC
-26ºC to 150ºC
80ºC
250ºC
400ºC
25ºC / Minute Maximum

* Overall assembly ratings must be adjusted to that of the lowest-rated component.

 
Subminiature-D, also referred to as D-Sub or Sub-D multi-pin electrical feedthrough assemblies with up to 250 pin configurations are routinely fabricated. Custom solutions with over 1,000 pins have also been engineered and produced.
Tip: Accu-Glass Products Conflat CF and/or ISO KF/LF Conical Reducers are ideally suited for the expansion of vacuum feedthrough capacity on smaller chamber flanges like fitting a 50-pin 4.50-inch CF flange mounted feedthrough using a 2.75-inch CF chamber port.   Click on the following links to access CF Conical Reducers, and/or ISO NW Conical Reducers.