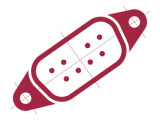 Thermocouple (Type-K) - Ultrahigh (UHV) High In-Vacuum (HV)
Thermocouple (Type-K) Power-D hermetic subminiature-D feedthroughs are mixed thermocouple-power contact combinations fitted on one feedthrough assembly constructed with pin arrangements designed to meet IEC 807-2 and DESC 85039 specifications.
Standard configurations include power pins, Chromel® / Alumel® Type-K thermocouple pin pairs, and combinations in a single subminiature-D shell.  Straight through pins are hermetically sealed and electrically insulated in a stainless steel shell using the latest in glass-ceramic bonding technology.  Ultrahigh (UHV) vacuum cable assemblies with PEEK (polyetheretherketone) connectors and Kapton® insulated wires are available to meet the demands of UHV environments. 
In-vacuum cable assemblies, individual connectors, and other accessories are available from the links below.  Available in both UHV and High Vacuum (HV) configurations. 
Custom thermocouple-power feedthrough flange and cable assemblies are available on request.
Thermocouple Type-K Feedthrough Specifications
Electrical
 

Thermocouple Pins - Voltage, Maximum
Power-D Pins - Voltage, Maximum
Thermocouple Pins - Current, Per Pin Maximum @ 20ºC
Power-D Pins - Current, Per Pin Maximum @ 20ºC


Millivolts
500 VDC
Milliamps
20 Amps

*  For proper heat dissipation, a maximum of 20% of the pins on a feedthrough may carry the maximum pin current at any given time.

 
Thermocouple Type-K Feedthrough Material Specifications
Material
 

Shell
Thermocouple - Pins (+)
Thermocouple - Pins (-)
Power - Pins
Seal / Insulator
Connector, Air
Connector, Vacuum


304 Stainless Steel
Chromel®
Alumel®
Au plated, Ni-Fe alloy
Glass-Ceramic
Delrin®
Peek*

*  Peek is a Polyether-ether-ketone thermoplastic.

 
 
 
Feedthrough Vacuum Range Specifications

Vacuum Range

 

UHV, Ultrahigh vacuum
HV, High vacuum


1x10-10 Torr
1x10-8 Torr
Feedthrough Temperature Range Specifications

Temperature Range

 

Feedthrough
Flange Mount, Conflat
Flange Mount, ISO
Connector / Cable, Air
Connector / Cable, Vacuum
Thermal Gradient


-200ºC to 250ºC
-200ºC to 450ºC
-26ºC to 150ºC
80ºC
250ºC
25ºC / Minute Maximum

* Overall assembly ratings must be adjusted to that of the lowest-rated component.

 
Thermocouple feedthroughs do not measure temperature but merely provide a conduit to bring the EMF signal generated at a thermocouple junction through a vacuum vessel wall to an external voltage measuring or temperature readout instrument.  Type-K thermocouples with positive Chromel® wires and negative Alumel® wires are recommended for use in clean oxidizing atmospheres.  The maximum operating temperature for these alloys is 1260°C for larger wire sizes.  The useful temperature measuring range for a Type-K thermocouple is between -200°C to 1250°C.