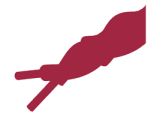 Wire and Cable Components - Ultrahigh (UHV) High In-Vacuum (HV)
AGP offers a large line of in-vacuum wire and cable to meet the demands of ultrahigh (UHV) and high vacuum (HV) environments.
The links above provide access to our line of ultrahigh vacuum (UHV) Kapton® insulated wire and cable that consists of "ribbon, round, solid, stranded, coaxial, thermocouple, and high voltage" designs.  Also found from the following links is our line of high vacuum (HV) extruded FEP insulated wire and cable consisting of "ribbon and stranded" designs.
In addition to our Kapton® and Telfon® insulated wire, we offer Stainless steel bare wire, OFE Copper Bare wire, various Bare Thermocouple wire, and a High Voltage Silicone Insulated wire.
Please refer to each category below for complete specifications. 
Wire and Cable Specifications
Electrical
 

Voltage, Maximum
Current, Per Pin Maximum @ 20ºC


See Individual Wire Specification
See Individual Wire Specification
Wire and Cable Material Specifications
Material
 


Ag plated Cu
Kapton®, Teflon®, Copper, Various Thermocouple, Stainless Steel, Slicone 
Wire and Cable Vacuum Range Specifications

Vacuum Range

 

UHV, Ultrahigh vacuum
HV, High vacuum


1x10-10 Torr
1x10-8 Torr
Wire and Cable Temperature Range Specifications

Temperature Range

 

Kapton® Insulated wire
Teflon® Insulated wire
Bare Metal Conductors
Silicone Insulated wire
Thermocouple wire


-75ºC to 220ºC
-65ºC to 200ºC
400ºC
250ºC
Up to 400ºC