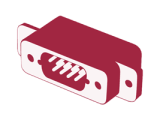 Specialty Contacts / Connectors for Ultrahigh (UHV) High In-Vacuum (HV)
Accu-Glass Products, Inc. offers a large line of Ultrahigh (UHV) and High Vacuum (HV) compatible specialty contacts / connectors and terminations. 
You can find our standard PEEK connectors in their represented categories from the navigation bar to the left.  Gender adapters are also included in this section for your convienance. 
Below, you will find specialty and high temperature connectors that are uniquely designed for your complex High In-Vacuum and Ultra High Vacuum connector needs. 
Push-On and In-Line connectors are available to accept a range of standard pin sizes.  They are constructed of ultrahigh vacuum compatible gold-plated beryllium-copper material, and the included set screw is stainless steel.  Rated at ultra-high vacuum range 1x10-10 Torr and a temperature range of 400ºC for the In-Line and 200ºC for the Push-On connectors.
Panel Mount and Gender Adapter connectors are made from PEEK (a polyether-ether-ketone thermoplastic), Glass-Ceramic, and/or Macor Ceramic (a machinable ceramic for high temperature and extreme environments not suitable for our standard PEEK connectors) and are offered various pin sizes from 9, 15, 25, and 50 pin sizes. 
PCB (printed circuit board) connectors are made of DAP and are designed to be soldered directly to Printed Circuit Boards.  These are rated to High-Vacuum at 1x10-8 Torr and temperature rating of 125ºC.
Call our factory if you have a special requirement or need for a vacuum specialty connector component that you don't find on the categories below.
CLICK ON A CATEGORY BELOW TO SEE OUR AVAILABLE PRODUCTS FOR PURCHASE.