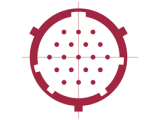 19 Pin Circular (Mil-C-26482) Components
AGP's 19-Pin circular instrumentation hermetic feedthroughs are constructed with a pin arrangement per Mil-C-26482 specification. Nineteen gold-plated pins are arranged in a straight-through pin-to-pin design, hermetically sealed and electrically insulated into a stainless steel shell (19 pin feedthrough) using the latest in glass-ceramic bonding technology.
Mil-C-26482 feedthroughs and cable assemblies are sold individually or as complete kits, wherein each kit contains a 19 pin feedthrough and both vacuum and air side cable assemblies. Vacuum compatible cable assemblies are fitted with PEEK (polyether-etherketone) polymer connectors and Kapton® insulated ribbon cable to meet the demands of ultrahigh vacuum environments. Vacuum connector includes a captured stainless steel socket head screw that securely locks it to a mating feedthrough. Captured in-vacuum screws are vented where required and the feedthrough's screw-boss also doubles as a polarizing key. Feedthrough's air-to-vacuum pin position is identified with a permanent surface mark to aid pin assignment. Air-service cable assemblies have standard bayonet type Mil-C-26482 circular connectors.
19 Pin Circular Mil-C-26482 Feedthrough Specifications
Electrical
 

Voltage, Maximum
Current, Per Pin Maximum @ 20ºC


500 VDC
5 Amps*

*  For proper heat dissipation, a maximum of 20% of the pins on a feedthrough may carry the maximum pin current at any given time.

 
19 Pin Circular Mil-C-26482 Feedthrough Material Specifications
Material
 

Shell
Pins
Seal / Insulator
Connector, Air
Connector, Vacuum


304 Stainless Steel
Au plated, Ni-Fe alloy
Glass-Ceramic
Delrin®
Peek*

*  Peek is a Polyether-ether-ketone thermoplastic.

 
Feedthrough Vacuum Range Specifications

Vacuum Range

 

UHV, Ultrahigh vacuum
HV, High vacuum


1x10-10 Torr
1x10-8 Torr
Feedthrough Temperature Range Specifications

Temperature Range

 

Feedthrough
Flange Mount, Conflat
Flange Mount, ISO
Connector / Cable, Air
Connector / Cable, Vacuum
Thermal Gradient


-200ºC to 250ºC
-200ºC to 450ºC
-26ºC to 150ºC
80ºC
250ºC
25ºC / Minute Maximum

* Overall assembly ratings must be adjusted to that of the lowest-rated component.

 
Custom in-vacuum and/or air-service cable assemblies are available on request.