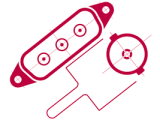 Coaxial (Coax) In-Vacuum Components
Coax-D, BNC, MHV, SHV-5, SMA, Microdot
Accu-Glass Products, Inc. offers a large series of Coaxial Vacuum feedthroughs and accessories to meet the demands of Ultrahigh (UHV) and High (HV) Vacuum environments.
The links below provide access to our line of Coaxial Feedthroughs in the Subminiature-D, BNC (bayonet naval connector), MHV (miniature high voltage),  SHV-5 (safe high voltage) up to 5kV, SMA (subminiature type-A), and Microdot styles as well as our complete lines of mating in-vacuum and air service cable assemblies.
Coaxial Feedthrough Specifications
Electrical
 

Voltage, Maximum
Current, Per Pin Maximum @ 20ºC


Varies, See Individual Category
Varies, See Individual Category

*  For proper heat dissipation, a maximum of 20% of the pins on a feedthrough may carry the maximum pin current at any given time.

 
Coaxial Feedthrough Material Specifications
Material
 

Shell
Pins
Seal / Insulator
Connector, Air
Connector, Vacuum


304 Stainless Steel
Varies, See Individual Category
Glass-Ceramic
Varies, See Individual Category
Varies, See individual Category

*  Peek is a Polyether-ether-ketone thermoplastic.

 
Feedthrough Vacuum Range Specifications

Vacuum Range

 

UHV, Ultrahigh vacuum
HV, High vacuum


1x10-10 Torr
1x10-8 Torr
Feedthrough Temperature Range Specifications

Temperature Range

 

Feedthrough
Flange Mount, Conflat
Flange Mount, ISO
Connector / Cable, Air
Connector / Cable, Vacuum
Thermal Gradient


-200ºC to 250ºC
-200ºC to 450ºC
-26ºC to 150ºC
80ºC
250ºC
25ºC / Minute Maximum

* Overall assembly ratings must be adjusted to that of the lowest-rated component.

 
Individual components for our clients who prefer to build their own cable assemblies are also found through the following links.
This category consists of six different styles of feedthrough.  Please click on the category above to obtain more information.