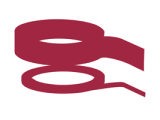 Ultrahigh (UHV) - High (HV) In-Vacuum Components
Accu-Glass Products, Inc. offers a large selection of vacuum components to meet the demands of ultrahigh vacuum environments.
Kapton® film Heaters provide a means of heating sample trays, cuvettes, reagent bottles, etc., inside a vacuum.  Constructed with two sheets of Kapton® film that is resistant to chemicals, oils and radiation, and have a total thickness of ony 0.008-inch.  Maximum heat output is 150ºC.  FEP adhesive used internally.  Lead wires are Teflon® insulated with a length of 12 inches.  Heater outputs 10 watts/in2 for rapid warm up.  Vacuum rated for 1x10-8 Torr and 200ºC maximum exposure temperature.  Available with or without Acrylic adhesive.
Electrical Gtandoffs made from glazed steatite provide electrical isolation and resistance to themal extremes, high-wear conditions and corrosion.
In-Vacuum Lubricants and Greases are low vapor pressure materials that are suitable for use in high vacuum applications.
High Vacuum  (HV) Sealants provide a quick, permanent vacuum seal with low outgassing.  Suitable for use in high vacuum applications.
Ultrahigh Vacuum  (UHV) Solder and Flux is available and provides a clean, positive electrical connection that does not outgas.  The melting/flow temperature is 280ºC.  It is suitable for use in ultrahigh vacuum applications.  This is an 85% gold and 15% proprietary alloy.
Kapton® tape is an adhesive tape that provides a clean, flexible electrical insulation with low outgassing characteristics.  It has a dielectric strength of 7500 VDC and a tensile strength of 30 lbs/inch-width.  It is suitable for use in ultrahigh vacuum applications.  Available with acrylic or silicone adhesive.
Click on a category below to see our available products for purchase.