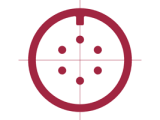 Mil-C-5015 Power Feedthroughs and Accessories
Accu-Glass Products' circular hermetic power feedthroughs are designed to meet Mil-C-5015 specifications.  These feedthroughs are available in either a 3-pin or 6-pin configuration.  Gold plated pins are in a straight through pin-to-pin design, are hermetically sealed, and electrically insulated in a stainless steel shell using the latest in glass-ceramic bonding technology.
Ultrahigh vacuum cable assemblies with PEEK (polyetheretherketone) connectors and Kapton® insulated 18 AWG cables are available to meet the demands of UHV environments.  They are fitted with a captured stainless steel vented screw that provides a means of securely locking them to their mating feedthrough.  Air service cable assemblies use standard Mil-C-5015 connectors.  Custom vacuum and air-service cable assemblies are available on request.
CLICK ON A CATEGORY BELOW TO SEE OUR AVAILABLE PRODUCTS FOR PURCHASE.