Ultra High Vacuum Solder and Flux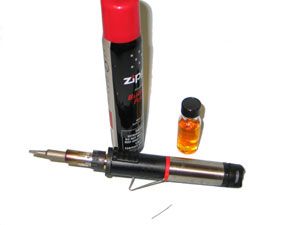 UHV Solder and Flux
Accu-Glass Products' "Accu-Alloy" solder provides a clean, positive electrical connection that does not outgas.   The melting/flow temperature is 280°C, suitable / compatible for use in ultrahigh vacuum applications.
Flux is soluble in isopropyl alcohol. Recommended cleaning after use: 5 minutes in ultrasonic bath of isopropyl alcohol.
Solder is made from 85% Gold and 15% Proprietary Alloy.
The High Temperature Solder Iron is great for use to solder in-vacuum connections.
We also offer Butane refill bottles.
Download Catalog