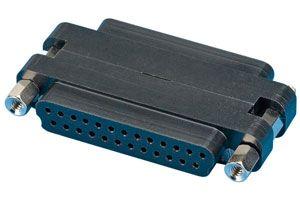 Air Service Gender Adapter - 25D
25 Pin D-Type Air Side, Female/Female Gender Adapter.
Air-Service Gender Adapters are offered for use with Accu-Glass Products Subminiature-D feedthroughs with male pins on both sides, to correct pin numbering to the standard Subminiature-D configuration.  (Pin 1 reverses position from vacuum side to air side due to the male to male configuration.)  Air-service gender adapters are made with Delrin® material.