Hermetic Vacuum Feedthrough
Customers commonly refer to our hermetic feedthrough line as "connectors"; however, we prefer the term hermetic feedthrough. Our vacuum hermetic feedthroughs are welded into standard, or custom flanges, and serve as the chamber wall enabling transmission in and out of the vacuum chamber. The vacuum feedthrough from Accu-Glass Products is designed to optimally pair with air-side and vacuum accessories, including cable assemblies and connectors.
The contacts, also known as pins, are hermetically sealed into the body of the feedthrough using our Glass-Ceramic to Metal sealing technology. This provides a robust compression seal, low signal loss, and superior performance in high-stress environments. Accu-Glass Products' feedthroughs effectively prevent leaks and outgassing in vacuum environments. In addition, they are temperature rated up to 250°C and ultrahigh vacuum (UHV) rated up to 1x10-10 Torr.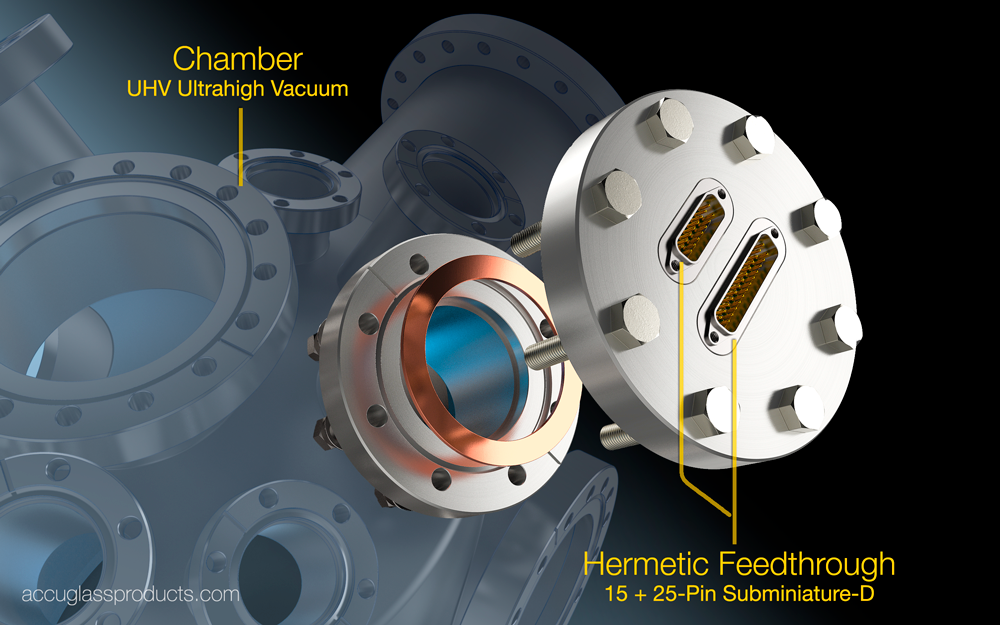 Accu-Glass Products Has an Expansive Line of Hermetic Feedthroughs
Our Subminiature-D hermetic feedthroughs come in standard 9 pin, 15 pins, 25 pin, and 50 pin configurations, these are the industry's most in-demand hermetic electrical feedthrough. The Subminiature-C also referred to as a "9C", is our most popular hermetic feedthrough for compact applications. Other offered feedthrough varieties include:
Product Highlights
Temperature rated up to 250 ° C

HV / UHV rated up to 1x10-10 Torr

Low outgassing rate

Available on standard or custom flanges

Perfectly pair with

PEEK Connectors

Air to vacuum connectivity solutions available