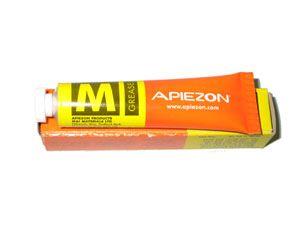 Apiezon - M
Apiezon - M Vacuum Lubricant. 1 oz. tube.
Apiezon - M Vacuum Lubricant Grease is a silicone and halogen-free high vacuum grease and is ideally suited to all manner of high vacuum applications.  Its inherent versatility means M Grease is also frequently used for non-vacuum purposes in both scientific and industrial settings and it is approved for use by NATO.
Apiezon - M Lubricant / Grease is designed for use in high vacuum environments at ambient temperatures (generally between 10 to 30°C / 50 to 86°F).
Melt point - 44°C, Viscosity at 50°C - 413cp, Molecular weight (Avg.)-950 Made with hydrocarbon base for easy cleaning.