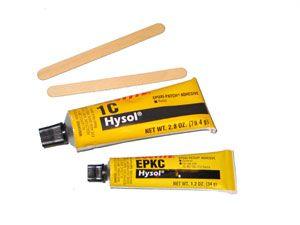 Epoxy-Patch - Torr-Seal Equivalent
Epoxy Patch, Direct Equivalent to Torr-Seal, Vacuum Sealant 1.2 oz. Hardener and 2.8 oz. Resin.
- Low Vapor Pressure

Epoxy Patch resin quickly seals leaks on any type of Ultra High Vacuum (UHV) and High Vacuum system or component.

Provided in convenient tubes and is solvent-free and can be used at pressures of 10-9 Torr (mbar) and below, at temperatures from -45° C to 120° C (bakeable temperature).

Additionally, Epoxy Patch permits leak checking immediately after curing and bonds with many materials including metal, ceramic, and glass.

Epoxy Patch is supplied in 1.2 oz. Hardener and 2.8 oz. Resin.