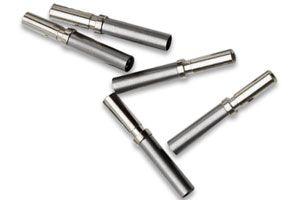 Alumel® Sleeved Contacts - Female TYPE: T-1
Alumel Sockets (Female) with Stainless Steel Sleeve. 5 per package.    Recommended for use in our PEEK (polyetheretherketone) connectors where clients use excessive plug-in cycles (i.e. 3+ cycles per day).
NOTE:  These contacts require TYPE-T1 (100190) crimp tool with positioner 111315 on it.  The standard TYPE-T1 (100190) crimp tool positioner will not work.    OR our standard TYPEE-T2 crimp tool will crimpt these contacts without modification.