19 Pin Circular ISO KF / LF Feedthroughs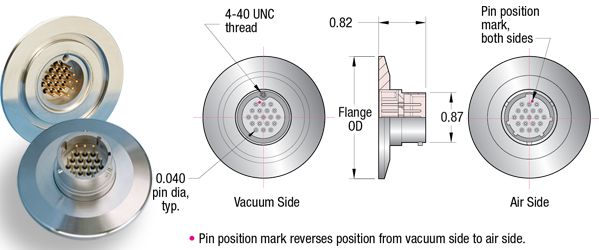 19 Pin Circular Feedthrough on ISO KF Flange
The compact and unique 19-pin feedthrough design allows installation into many ISO KF Flange sizes and styles.  Gold-plated pins are arranged in a straight-through pin-to-pin design and are hermetically sealed and electrically insulated in a stainless steel shell using the latest in glass-ceramic bonding technology.
19 Pin Feedthrough flange features:
19-pin interface available
Temperature rated to 150°C (based on O-Ring type)
UHV compatible construction
Conflat? compatible mounts
Voltage rating:  500 VDC max.
5 AMPs per pin (20% of pins at any given time)
Pins: Au plated, Ni-Fe alloy
UHV rated 1x10-8 Torr
19 Pin Feedthrough flange "kit" additional features:
All of the above features (Feedthrough Flange)
In Vacuum cable assembly:

PEEK 19 pin connector to Kapton insulated cable assembly, 19-inches long.

Air Side cable assembly:

Delrin 19 pin connector to cable assembly, 96-inches long.
All feedthroughs listed on this page are mounted on ISO KF Flanges that incorporate the industry standard "Hinged Clamp" sealing principle, making it easy to mount to your existing ISO KF Flange ports.