Bulkhead-D Feedthroughs / Flanges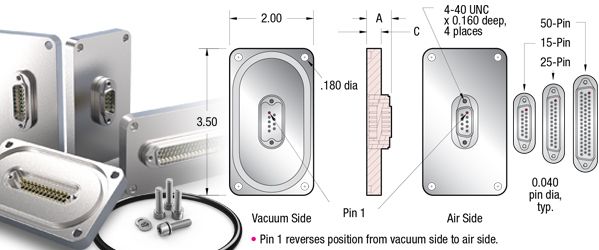 HV Bulkhead-D Feedthroughs Flanges
The HV (High Vacuum) Bulkhead-D feedthroughs were developed for high-vacuum flat-chamber-wall applications where conventional ISO NW KF or LF flanges are either not available, or just not practical.  Our universal 2x3.5 inch rectangular flanges, the Bulkhead-D flange, accommodates standard 9, 15, 25 or 50-pin subminiature-D feedthroughs, and shares the same gasket and fastening accessories... providing simple and convenient interchangeability.
See individual products for instructions on how to prep your vacuum chamber for use with the new HV Bulkhead-D feedthroughs.
HV Bulkhead-D (Sub-D) Feedthrough flange features:
9 to 50-pin interface available off-the-shelf
Call for custom feedthrough configurations
High temperature rated to 150°C (based on O-ring type)
HV compatible construction
Voltage rating: 500 VDC max.
5 AMPs per pin (20% of pins at any given time)
Pins: Au plated, Ni-Fe alloy
UHV rated 1x10-8 Torr
Please select a Bulkhead-D feedthrough flange from the list below for more details about that item.