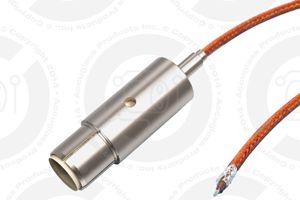 Connector to Cable - Accu-Fast™ 500S
Kapton insulated 26 AWG, 50 Ohm coaxial cable with "Accufast™ 500S" (grounded) connector on one end and "Connector #2" option on the other.   
This cable mates directly to the vacuum side of our Single-ended, Grounded-shield MHV and SHV-5 feedthroughs. 
Options of 19" or 39" inches are available here.   Custom lengths are also available, please call.