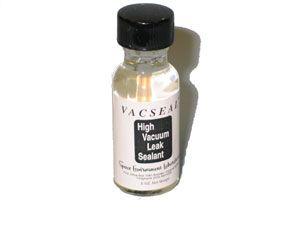 Vacseal - 1/2 oz. Bottle.
Vacseal® - 1/2 oz. bottle with applicator brush.
Vacseal® is a silicone based liquid resin system developed primarily for sealing leaks in high and UHV systems.  It was recently reformulated to contain no Class 1 ozone depleting chemicals.  Vacseal® will seal leaks as large as 4 micron liters per second on systems under evacuation.  The sealant will repair larger leaks if the system is at atmospheric pressure.
The use of this product almost always results in reduced downtime, in some cases eliminates the need for expensive "permanent" repairs, and on occasion has been known to save an experiment in progress.