19 Pin Circular CF Feedthroughs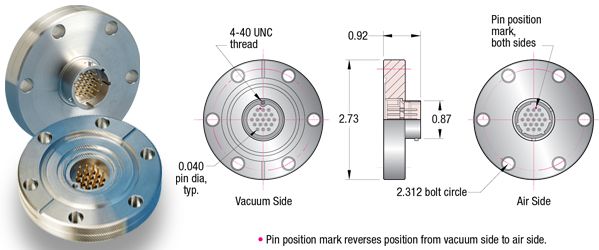 19 Pin Circular Feedthrough on CF flanges
The compact and unique 19-pin hermetic feedthrough design allows installation into many CF flange sizes and styles.  Gold-plated pins are arranged in a straight-through pin-to-pin design and are hermetically sealed and electrically insulated in a stainless steel shell using the latest in glass-ceramic bonding technology.
19 Pin Feedthrough flange features:
19-pin interface available
High temperature rated to 250°C (Feedthrough)
UHV compatible construction
Conflat? compatible mounts
Voltage rating:  500 VDC max.
5 AMPs per pin (20% of pins at any given time)
Pins: Au plated, Ni-Fe alloy
UHV rated 1x10-10

 

Torr 
19 Pin Feedthrough flange "kit" additional features:
All of the above features (Feedthrough Flange)
In Vacuum cable assembly:

PEEK Sub-C connector to Kapton insulated cable assembly, 19-inches long.

Air Side cable assembly:

Delrine Sub C connector to cable assembly, 96-inches long. 
These feedthroughs are mounted on CF Flanges that incorporate the industry standard "captured copper gasket" sealing principle, making it easy to mount to your existing CF Flange ports.