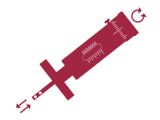 Linear Feedthroughs
Accu-Glass Products' precision HTL series linear motion feedthroughs are designed to operate at temperatures as high as 250°C.  Linear movement is measured in 0.001 inch increments on rotary barrel scale and 0.025 inch increments on the linear body scale, which are laser etched into the black anodized aluminum finish.  They are constructed of aluminum and stainless steel, where only stainless steel surfaces are exposed to the vacuum environment.
In-vacuum bearings are film lubricated with UHV compatible Krytox® lubricant, while air side bearings are lubricated with high-temperature Krytox® lubricant.  The linear shaft is sealed with an AM-350 edge-welded bellows.
Feedthroughs are available on Conflat® style CF metal seal of ISO-KF style elastomer seal flanges.
Stepper motor and pneumatic actuator options are also available via the links below.