Conflat CF Flange Feedthroughs - Subminiature-C (Sub-C)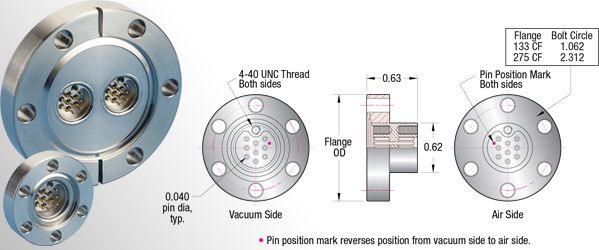 Subminiature-C (Sub-C) Feedthrough, Conflat CF Flanges.
Subminiature-C (Sub-C) multipin hermetic feedthroughs are designed for applications where space is limited inside your vacuum chamber.
This compact and unique 9-pin design allows installation into a 1.33-inch CF flange or two feedthroughs on a 2.75-inch conflat CF flange.  Nine gold-plated pins are arranged in a straight through pin-to-pin design and are hermetically sealed and electrically insulated in a stainless steel shell using the latest in glass-ceramic bonding technology.