Conflat CF Flange Feedthroughs - Subminiature-C (Sub-C)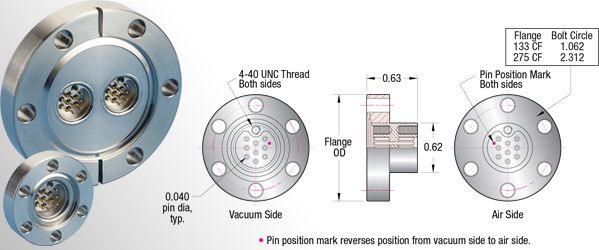 Subminiature-C (Sub-C) Feedthrough, Conflat CF Flanges.
Subminiature-C (Sub-C) multipin hermetic feedthroughs are designed for applications where space is limited inside your vacuum chamber.
This compact and unique 9-pin design allows installation into a 1.33-inch CF flange or two feedthroughs on a 2.75-inch conflat CF flange.  Nine gold-plated pins are arranged in a straight through pin-to-pin design and are hermetically sealed and electrically insulated in a stainless steel shell using the latest in glass-ceramic bonding technology.
Subminiature-C Feedthrough Specifications
Electrical
 

Voltage, Maximum
Current, Per Pin Maximum @ 20ºC


500 VDC
5 Amps*

*  For proper heat dissipation, a maximum of 20% of the pins on a feedthrough may carry the maximum pin current at any given time.

 
 
 
Subminiature-C Feedthrough Material Specifications
Material
 

Shell
Pins
Seal / Insulator
Connector, Air
Connector, Vacuum
Connector, Vacuum, High Temperature


304 Stainless Steel
Au plated, Ni-Fe alloy
Glass-Ceramic
Delrin®
Peek*
Macor® Cermic

*  Peek is a Polyether-ether-ketone thermoplastic.

 
 
 
Feedthrough Vacuum Range Specifications

| Vacuum Range |   |
| --- | --- |
| | 1x10-10 Torr |
Feedthrough Temperature Range Specifications

Temperature Range

 

Feedthrough
Flange Mount, Conflat
Connector / Cable, Air
Connector / Cable, Vacuum
Connector, Ceramic
Thermal Gradient


-200ºC to 250ºC
-200ºC to 450ºC
80ºC
250ºC
400ºC
25ºC / Minute Maximum

* Overall assembly ratings must be adjusted to that of the lowest rated component.

 
Sub C Feedthrough flange "kit" additional features:
All of the above features (Feedthrough Flange)
In Vacuum cable assembly:

PEEK Sub-C connector to Kapton insulated cable assembly, 19-inches long.

Air Side cable assembly:

Delrine Sub C connector to cable assembly, 96-inches long.
All feedthroughs are mounted on CF Flanges that incorporate the industry standard "captured copper gasket" sealing principle, making it easy to mount to your existing CF Flange ports.
Conflat Flange Subminiature C Feedthrough Specifications