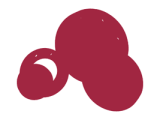 Vacuum CF Flanges
Choosing a Flange
To understand what flange is best for your scientific or industrial application lets first look at: What is a flange? A flange is a method of connecting equipment that provides easy access and modification. Flanged joints are made by joining two flanges together with a gasket between them to provide a seal. A vacuum flange allows access and enables equipment to interact via physical connections from outside of a vacuum chamber. The most common vacuum flanges are the CF flange (Conflat) and ISO flanges, the main differences in these flanges are the method of sealing and vacuum / temperature ratings.
CF Flange Size and Style
Accu-Glass Products, Inc., offers an expansive line of Conflat flanges (CF flanges) in various sizes and styles. Conflat flange sizes range from 1.33 inches to 16.50 inches; this number references the outside diameter (O.D) of the flange. Conflat flange styles include rotatable and non-rotatable with options of clearance or tapped mounting holes.
CF Flange Sealing
Using the captured copper gasket sealing principle, the OFHC copper gasket creates the seal that is held between the knife edges of a pair of CF flanges. When tightening the mounting hardware, the knife edges cut into the gasket and force the copper material outwards, this traps the copper and creates an air-tight seal.
CF Flange Components / Fittings
In addition to feedthrough flanges, Accu-Glass Products, Inc. offers a comprehensive line of standard CF flanged components including:
Also offered are high quality sealing and mounting hardware including:
Features
Ultra-high vacuum rated up to

1x10-10

Torr

The baking and operating temperature ranges from cryogenic temperatures up to 450

∘

C

Flange sizes in North America are determined by outside diameter (OD)

Other regions use DN flange sizing which is determined by the internal diameter (ID) of the largest tube size that will fit on the flange.
To view the conflat flange design, or further conflat flange specifications, select the below link to view our digital catalog.